Limited in-store hours on Wednesdays & Saturdays.
Curbside & delivery still available. Curbside hours are currently Wed 12-7, Thurs 12-6, Fri 12-6, Sat 12-6, Sun 12-6. Please contact us with any questions.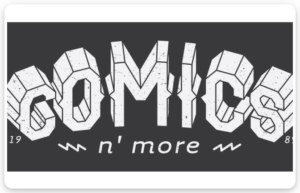 Comics N' More sells comic books in Easthampton, MA (map). We cater to our subscription customers first and foremost, and do our best to keep an ever-evolving mix of cool stuff in stock.
By Comics N' More
/ July 27, 2020
We're here for you Did you know that we are offering more ways then ever before to get your weekly...
Read More
---
Just Some Of Our Specialties
Graphic Novels
We offer a large selection of new and used, major and small press graphic novels, trade paperbacks, and hardcover comic books. Find DC, Marvel, Image, Valiant, Dark Horse, and many other independent publishers on our shelves!
All-Ages
We have a growing collection of comics and comics-related items for children of all ages, including new and older graphic novels, board books, and single issues, as well as toys and action figures!
COMIXHUNT! Back Issues
Thousands of freshly curated titles to choose from! Tons of comics from the 1970's forward, with a limited, but growing, selection of Golden and Silver Age comics from a variety of publishers! In-store browsing will return in the future, but for now feel free to ask us to hunt down back issues for you or check out our pre-packed 50+ dollar comics bricks in our Square Shop.
Action Figures and Statues
We carry a constantly changing inventory of new and vintage action figures! Figures from Marvel Legends, Batman: The Animated Series, DC Collectibles, Star Wars, Star Trek, and many more are available! We also offer loose figures. Check out our selection of statues, as well!